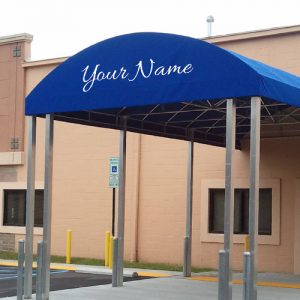 Thanks to their many benefits, commercial awnings are a wonderful addition to any business. Not only do commercial awnings improve the overall look and appeal of your property, they also provide you with another medium for branding opportunities, as you can display your name, logo, website address, phone number or other important messages or slogans to your current or prospective customers.
In addition, commercial awnings will help you reduce your energy bill, since they will provide your building with shade and protect your windows from the hot sun, which will prevent you from having to turn the up the air conditioner. Custom awnings are also helpful if it's raining or snowing, as it gives the customers entering or leaving your building extra cover and a place where they can stay dry and comfortable before entering or leaving.
Located in Indianapolis, Indiana, Greenfield Signs & Lighting offers custom commercial vinyl awnings for businesses of any industry. From the design of your custom awning to the installation, we can help you every step of the way.
If you would like to learn more about commercial vinyl awnings, or if you would like to schedule an appointment for a free consultation, reach out to us by calling 317-469-3095 today.