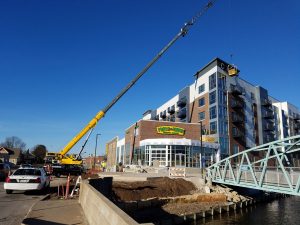 Did you know Greenfield Signs & Lighting has regional and statewide installation programs available for Indiana businesses? If you are a construction company, general contractor, national sign company or other pertinent business, we are here for you.
We currently have four installation crews with six trucks and two cranes at our disposal, meaning we can handle jobs both big and small. We are also licensed to do complete projects in the majority of cities and counties near Greenfield and Indianapolis, Indiana.
If we are not yet licensed in your city or county, we can often gain approval quickly to tackle your next signage project. Plus, beyond just the work we do for businesses within the state of Indiana, we also routinely travel for clients in Illinois and Ohio.
As a family owned and operated business, we understand how important image is to your company and organization. A sign is often the first thing a person sees when entering a business, or it is the thing they think of when they imagine a particular company.
That's why it's essential that you have a visually pleasing sign that shows your company well, and we can help you promote your business and your brand at every step.
We not only perform professional sign installations, but we also design and fabricate them as well. Logo designs is another one of our specialties, and whether you need to translate your business logo to a new sign or need to create a whole new logo to promote your business, we can help.
Let us increase your company's or your project's visibility through our professional signage services.
We offer free quotes for our services and are readily available to help you with all of your sign installation needs. Call 866-740-9797 or email phil@greenfieldsigns.com today and see how we can help your business.