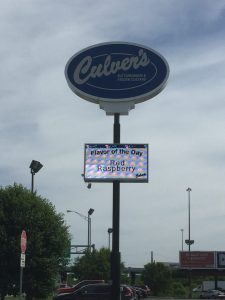 Pole Sign Design & Installation in Indianapolis, IN
Having a sign directly outside of your business to signal who you are and draw in potential customers passing by is essential to the long-term success of your business. Unfortunately, however, even the most beautifully-designed, eye-catching exterior sign can only be as effective as its physical reach. A sign situated over your door or on your front window might be able to attract people from a close sidewalk or browsing at a nearby business, but what about all of those prospective customers who are further away and can't see it?
Drivers cruising down the highway or busy road that passes your store aren't going to be able to spot signage displayed close to your business front as they flash by. Similarly, foot traffic walking down the sidewalks of those faraway streets won't have a chance to view your signs from that distance either. The solution? A pole sign!
Commercial pole signs from Greenfield Signs & Lighting are perfect for those businesses located further back from the main road looking to catch the attention of a wider passing audience. A pole sign will stand tall and proud near sidewalks and roadways, baring the name of your company and ensuring your Indianapolis business will be widely noticed.
Pole Sign Fabrication in Indianapolis & Greenfield
Our commercial pole signs are custom-made to accurately represent your business and attract more attention to your brand from those highly-populated areas that are just out of reach of your premises. To begin your pole sign fabrication process, our team will meet with you to discuss the needs and preferences of your company in terms of signage. In this consultation, we'll work together to determine what you want your pole sign to say about your brand and hone in on the details of how to best get that message across.
The skilled sign fabricators at Greenfield Signs are well-experienced in crafting all types of business signage. The custom pole sign we design for your company will implement your vision effectively using high-quality aluminum, steel, and/or plastic. Whether it's a simple illuminated sign with your business name and logo, a more complex pole sign with an LED message center attached, or anything in between, our specialists will work tirelessly to bring your idea to life.
Pole Sign Installation for Indianapolis Businesses
The installation of your pole sign is a precise process that requires specific knowledge of the most effective techniques, as well as access to and extensive familiarity with the right tools. Greenfield Signs & Lighting has four professional installation crews equipped with these resources and ready to service clients throughout not just Indianapolis and the entire state of Indiana beyond it, but also Ohio and Illinois as well.
Your business sign is the first impression customers get of your company and the level of quality it has to offer. Especially for a pole sign, which extends the reach of that impression tenfold, it is crucial that your signage is installed correctly. When you work with us, you have the added advantage of guaranteed expert pole sign installation from the same trusted team that took your pole sign from concept to reality.
Repair & Maintenance for Pole Signs in Indiana
Being in such a high-traffic outdoor area, it stands to reason that at some point over the next few years, your pole sign is going to see a little damage. It may just be the standard wear that comes with age, one bad storm too many, or a driver who swerved too hard, but one day you'll probably find that you're in need of a pole sign repair and maintenance specialist. When that day comes, don't panic—just call Greenfield Signs & Lighting!
Common sense and experience have taught us that business signs can fall into all types of disrepair, and that pole signs are certainly no exception. That's why our team is trained in the most efficient ways to restore damaged commercial pole signs to their original high quality. We can quickly handle repair and maintenance issues of any scale, so the problem is gone before any customers even have a chance to notice it.
Contact the sign specialists at Greenfield Signs & Lighting today, so we can help you determine the best design and placement to attract more business with your commercial pole sign. We look forward to helping you grow your Indianapolis business!