It's time to up your business sign game—and we really do mean "up."
Get your business and brand seen by adding some height to your business with a pylon sign.
Why Pylon Signs?
Pylon displays will help you rise above your competition—literally.
Standing on either poles or a monument-type structure, your business sign will be noticed, gaining attention from passing traffic and guiding potential customers to your doorstep.
Illuminated pylon signs will catch the eye of people passing by your business at all times of the day and throughout the night. These attractive signs make it easier for current and prospective customers to find your business, especially if your building is located further away from the street.
Single-Business Pylon Sign
This type of display is best used as an exterior sign for your one business, informing and guiding people to your location.
Multi-Business Pylon Sign
These signs are very versatile and have become a solution for larger plazas and malls to help inform people of the business located within.
Creating Your Pylon Sign with Us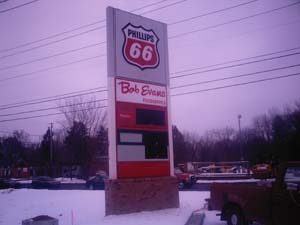 Greenfield Signs & Lighting offers custom pylon signs for customers in Indianapolis and the surrounding areas of Indiana.
And with little to no required maintenance, our custom pylon signs are a cost-effective business signage solution.
Our creative designers, talented in-house fabricators, and skilled installation team can handle the entire process, from the initial concept to the placement of the sign on your property.
Business signage provides your company with advertising 24 hours a day, 365 days a year, making it a wise investment, regardless of the industry you're in.
Give the Greenfield Signs & Lighting team a call at 866-740-9797 today to learn more about our custom pylon signs or to schedule your free initial consultation with us!